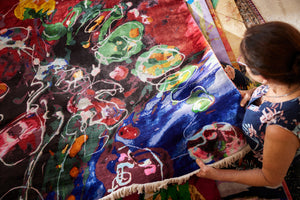 Handmade rugs are some of the most widely respected luxury products on the market. The fact that they are still manufactured by hand, using the same technique that has been passed on by weavers down the generations for centuries, demonstrates the staying power of the art form. Silk rugs, like those in Dena Lawrence's Firesun Collection, continue to be among the very finest of handmade rugs available. Both Persian and Senneh knots—asymmetrically and symmetrically formed—are used to ensure the highest level of accuracy and creative control over the designs. Every Kashmiri piece available in the online shop uses between twenty and thirty-six colours of the best quality pure natural silk, woven at 576 knots per square inch by the finest artisans in the country. They offer intricate design with integral lustre and shine.
The wool and silk used for Dena Lawrence's rugs are natural fibres, responsibly harvested from sustainable sources. Azo-free, chrome and eco-friendly dyes are used to ensure consistent vibrancy and long-lasting colour that is less likely to fade. Where possible, the chemical dyes are used in combination with natural dyes. The rugs are woven without child or bonded labour. The weavers who create these masterly pieces are fairly treated and work in safe environments that uphold international health and safety standards.
There are many advantages to owning a silk carpet. Besides being the ultimate luxury in terms of aesthetics and tactility, a silk rug is also an incredibly practical work of art. A silk rug is fire resistant up to 330 degrees Fahrenheit (165.5 degrees Celsius), lightweight and easily transportable. The durability and strength of silk fibres makes silk rugs ideal heirloom pieces that can last centuries with the right care. Antique silk rugs appear in many museums, royal and private collections worldwide, testament not only to their longevity, but also their long-lasting appeal. Rugs provide cushioning and acoustic benefits whether placed on walls or floors, bringing comfort and joy beyond their visual appearance. Silk rugs are often the first choice for interior decorators and homeowners looking for a special element with impressive impact for their project or space.
For the Kashmir Firesun Collection, silk rugs usually take two weavers the following length of time:
3 x 6 ft – 3 months 
4 x 6 ft – 5 months
5 x 7 ft – 6 months
6 x 9 ft – 8 to 9 months 
8 x 10 – 12 months
9 x 12 – 12 to 18 months
10 x 14 ft – 18 to 24 months 
For the Watermoon Collection, rugs usually take the following length of time:
3 x 6 ft – 1 weaver, 1 month
4 x 6 ft – 2 weavers, 2 months 
5 x 7 ft – 2 weavers, 3 months
6 x 9 ft – 2 weavers, 5 to 7 months 
8 x 10 – 2 weavers, 7 to 9 months
9 x 12 – 2 to 3 weavers, 9 to 12 months
10 x 14 ft – 2 to 3 weavers, 18 to 24 months
Silk rugs are valuable objects that should be treated with care. Do not place them in areas that are likely to see frequent spills, and consider removing shoes to walk over the rug if it is positioned in a high-traffic area. Avoid exposure to direct sunlight which can cause fading and weaken the fibres. Vacuum frequently at a low suction rate to remove particles of dirt and dust before they are ground into the fibres. Do not use a roller brush. Hanging the rug outside to beat it is also a good traditional method of cleaning, and simultaneously airing, the rug.
New Zealand wool is dirt and stain-resistant and will stay in top condition for a long time with regular vacuuming. Hanging the rug outside to beat it is also a good traditional method of cleaning, and simultaneously airing, the rug. Having a handmade carpet professionally cleaned once every couple of years can increase its longevity even further. If storing a handmade rug, keep it rolled rather than folded.
For severe stains, employ a professional cleaner. For less severe stains, act fast. Use an absorbent cloth or towel to blot a liquid spill or scrape it up with a flat object (such as a credit card) before it soaks deep into the weave. Do not to rub the surface. Then spray a solution consisting of equal parts water and vinegar on to the affected area, ensuring it is cool or tepid, not warm or hot. Mist it heavily and blot up the moisture. Repeat the process until the stain is removed. Let the rug dry naturally.
Wool has a natural resistance to stains due to its structure. Spillages tend to stay on top of wool carpets rather than sinking in, as they do with synthetic fibres. However, spillages must be cleaned swiftly, to avoid permanent stains. Use salt to soak up liquid spills such as red wine, then vacuum. Blot the stain from the outer edge towards the centre. Do not scrub, as this will ingrain the stain deeper into the rug. Apply cold water to the stain and then blot it using a solution of 1 litre of warm water mixed with 1 teaspoon of mild wool-approved laundry detergent and one teaspoon of white vinegar. Then rinse the affected area with warm water. Be wary of using strong chemicals such as bleach, these may discolour or disfigure your rug. Do not use oxygen cleaners. For severe stains, employ a professional cleaner.